---
My Promise to You
Since 2017, I have built my reputation in the retro-gaming community on product quality and customer care. If you run into any issues or are not satisfied for any reason, contact me immediately so I may address them and work with you to fix the problem or find a solution. I am here at your service. Please note that I build everything to order, so if you see something you want feel free to contact me. Be sure to check out the Order Queue page to get an idea on where you will fall in line.
Mike
RetroGameBoyz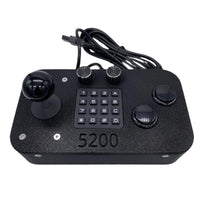 Watch this first! - RetroGameBoyz Overview & Store Tour
---
Notice
I appreciate your patience as I transition over to my new online store. Please note I hand-make all these controllers and they take time to build. I am currently about 6 - 8 weeks (or longer) before shipping on builds and processing orders. I will keep you updated of the progress. You can always check the status of the order on the order status page link sent in the order confirmation email or check out the order queue to see what is in progress.
---
What you should know
Thank for visiting RetroGameBoyz. RetroGameBoyz was a hobby turned side-hustle. Gaming has always been in my blood, but in 2017, I developed a passion for the video game consoles and computers that I once owned as a child; including those that I didn't own. So, I began an effort to grow a retrogaming collection. Around that time, RetroGameBoyz was born when I wanted to share this love of gaming with my father. My father had rheumatoid arthritis - making it difficult for him to hold the original Colecovision and Atari 7800 controllers / joysticks. Seeing him wince in pain inspired me to find another solution. So I modified a NES-004 control pad to be used on an original Atari 7800, which evolved into a legitimate small business with thousands of happy customers, over 7000 units sold worldwide and many models to and products to choose from. All are handmade with precision and care in my workshop using quality materials. I thoroughly test all products on original hardware and hold a high degree of quality care for my customers. Read My Story to see how this "little hobby" became a passionate side hustle.